Written on January 12, 2012
Lifting jigs tend to evolve over time, they live in dark cupboards and only come out when they are required by the very select group of operators who know the secret location of the lifting jig.  Yes home made lifting jigs save time and money  but they are a health and safety nightmare.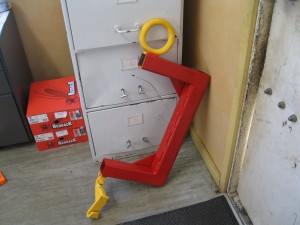 These home made lifting frames have not been designed to Australian Standards nor have they been certified to Australian Standards nor are they maintained, nor are they listed on the lifting register, nor are there any drawings of the lifting jig to make another when the original is lost or one of the select group who know where the jig is retires.
Like most home made lifting jigs, this one lived in a dark cupboard and was used to lift and position 800kg wheel hubs. The redesigned lifting jig designed and developed by Syngineering, includes a flexible arrangement that allows the operators to use the lifting frame for not only the 800kg wheel hubs but the 600kg wheel bubs as the centre of gravity of the lifting frame can now be adjusted.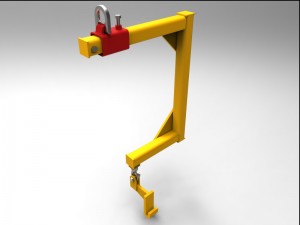 Syngineering specialise in working with your operators and engineers to assist companies to re-engineering lifting jigs and lifting devices and then redesigning these jigs so that they comply with Australia Standards such as AS4991, and AS1554. Our approach is simple, we work with your operators, your managers and your engineers to eliminate the risk that using homemade lifting frames pose to your business.  We need to deal with the problem now, before your next health and safety audit or worse, someone gets hurt using one of these home made lifting frames.
Our engineers are ready to help.
---