Thursday, October 10th, 2013
Syngineering can help you with your pneumatic and hydraulic problems.
If you have a pneumatic or hydraulics system that needs updating, or requires a redesign, phone Syngineering. We can come and take a look and offer our advice.
A recent project is a 'pipe loading table', where pipes are raised, lowered, moved and machined using a combination of hydraulics and pneumatic cylinders and components.
Our close relationship with suppliers mean we can spec the right cylinders for your application.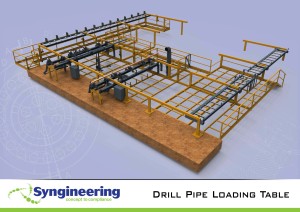 P: (07) 3865 6603
E: info@syngineering.com.au
A: 448 Newman Rd, GEEBUNG QLD 4034
Category Industry News | Tags: Tags: 2D drafting, 2D drawings, 3d modelling, 3D models, AS 1100, AS1100, AS4084, AS4091, Australian Standards, Brisbane Engineering Project, Brisbane Engineers, Certified to Australian Standards, CPEng, crusher, Custom Engineering Solutions, Engineer Drawings, Finite Element Analysis, laser cutting, Plasma cutting, RPEQ, Sheet metal cutting,
---