Monday, October 14th, 2013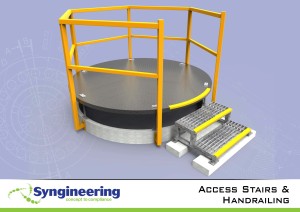 Stairs, walkways, ladders, safety barriers – if these items do not comply with AS 1657 – the Australian Standard for fixed platforms, walkways, stairways and ladders, your operation could be shut down.
Our draftsman, tradesmen and engineers can design and/or certify your platforms, walkways, stairways or ladders to comply with AS 1657. Our RPEQ certification will give you peace of mind and .
We also over a range of step overs, platforms and safety barriers that you can either order straight from our product catalogue or we can customise a design to suit your specific application.  We can also support you and your team to improve your current installation to ensure that it will comply with AS1657 and gain CPEng RPEQ certification.
P:  (07) 3865 6603
E: info@syngineering.com.au
A: 448 Newman Road, GEEBUNG QLD 4034