Written on September 28, 2016
When one of our clients identified a safety improvement for accessing a silo they contacted us to come and look at what could be done.
The slaker room of the lime silo was accessed by climbing a rather wobbly 5m ladder.  Perhaps when this was built it was intended to allow for periodic maintenance but  it had become necessary for operations personnel to have to climb the ladder many times throughout a shift, day and night.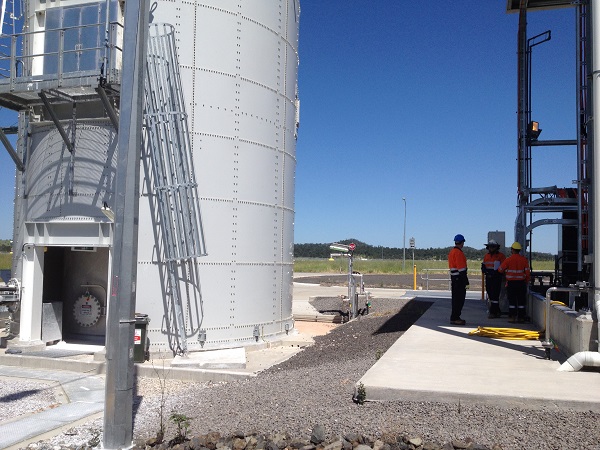 Existing Access Ladder to Lime Silo Slaker Room
As is typical of most jobs that Syngineering gets called to, there were plenty of constraints to work within.  The existing silo structure could not be used to support the stairway and the base of the silo formed a bund.  The remote location and ongoing operation of the facility also meant that the stairway would need to be pre-fabricated and installed with minimal disruption to operations.   Detailed drawings of the silo structure were not available and there were also underground services that made avoiding any excavation appealing.  In fact this was not the first time the client (the operators of the plant)  had tried to solve the problem but previous proposals had come back as to expensive and were not supported to by plants owner.
We got thinking and proposed that the stairway commence on a neighboring concrete slab.  This reduced the overall height of the elevation.  We did some calculations to check our idea could comply with AS1657 and then quickly sketched up our concept and shared it with the client to ensure the direction we were proposing would be acceptable.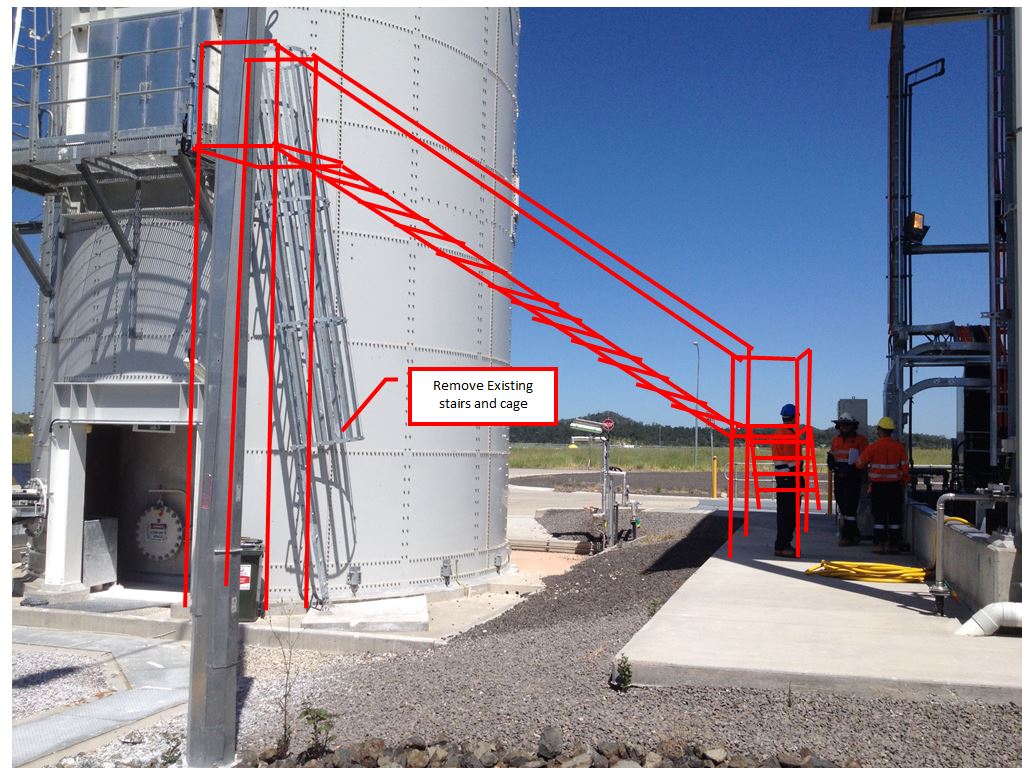 Proposed Stairway Concept
The client agreed our concept was both feasible and practical and their client in-turn was satisfied that we had proposed an economical solutions.
In order to ensure minimal need for onsite modifications during installation a survey including a 3D scan was undertaken.  Once the stairway design was detailed and presented to the client for review and comment it was then able to quickly move to fabrication.
Since ease and speed of installation were considered right from the start, disruption to operations was minimized and could take place during normal operation of the plant. The stairs were installed in under two days, with lost access to the lime silo less than 24 hours.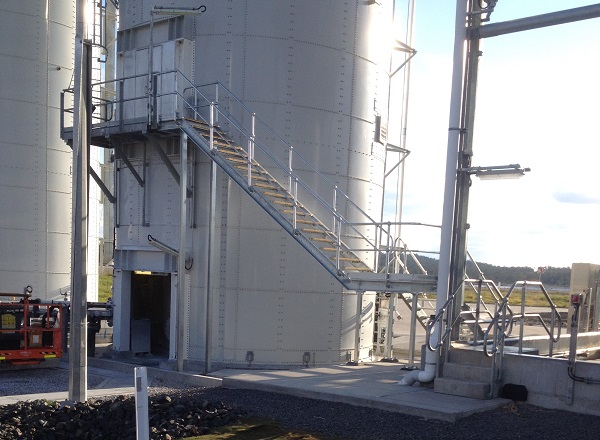 Completed Stairway
---